RM10.862 billion, that is the sum of money NOT being claimed by Malaysians (source). According to the news article, the Accountant-General's Department (AGD) wants to help Malaysians check on their unclaimed monies, therefore the AGD is in the process of developing an online system software.
That was in 2019.
Previously, to check whether if you have any unclaimed monies, you will need to queue up, without knowing if you have any unclaimed money or not. However, sometime early this year, it was reported that AGD's eGUMIS portal went live and it was a significant improvement to check whether you have any unclaimed monies.
But, in early 2020, via eGUMIS, you can only check if you have any unclaimed monies. If you want to claim the money, you are still required to pay a visit to the AGD's office to submit the form (Borang Permohonan Bayaran Balik WTD "UMA-7").
I remembered I had a small sum of money unclaimed, but due to the trouble and since the money is not significant, I procrastinated and left the money unclaimed, on purpose…
Now, towards the end of 2020, I read about this article on theStar "'Govt can use unclaimed monies'", it triggered me to check my unclaimed money again.
I was asked to create an account again as my account had expired after 6 months of inactivity. As I registered for another account, I realised that the user interface had changed and the more I explore, the more I realised that eGUMIS is now ready for us to submit our form online.
The following is my step-by step experience on making the claim. Be sure to read till the end because I will also explain how to overcome certain bug (as of 28 November 2020) in the system:
Step 1: Register New Account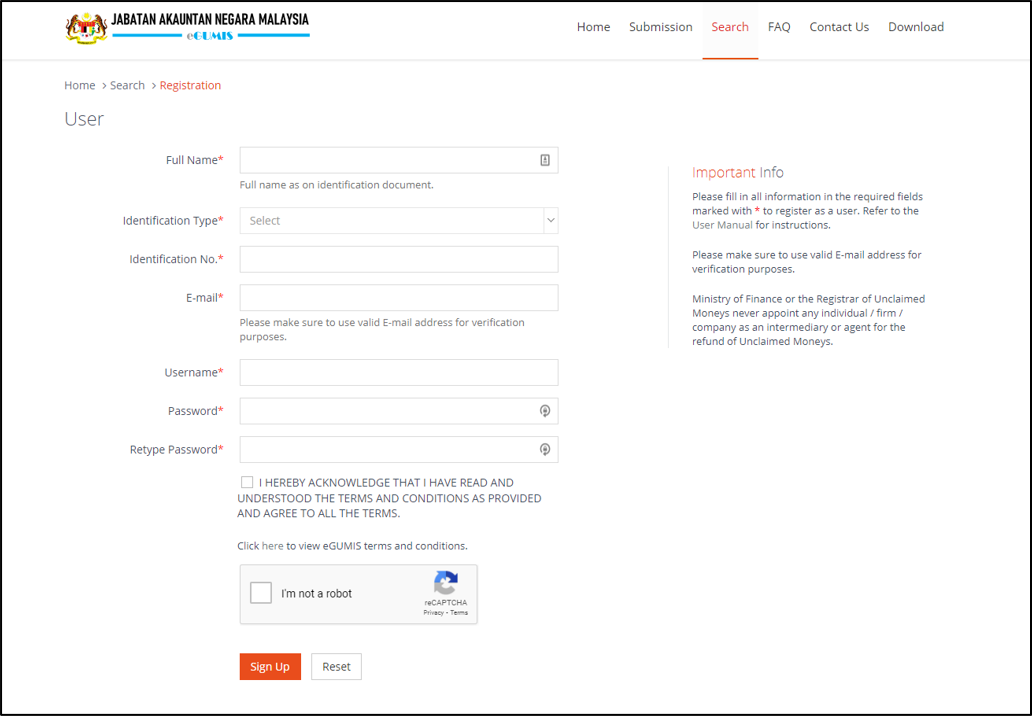 First, head over to this registration link to register for a new account.
Your account will be deactivated after 6 months of inactivity, so if you have previously registered and have not login for the past 6 months, you will need to register for a new account
Step 2: Update your Profile
Next, update your profile. Make sure to fill up all the boxes that is marked with (*).
Step 3: Check for Unclaimed Monies
Click on "Search for Unclaimed Moneys" and enter your Identification Number into the provided space. If you have any unclaimed money, it will show in the search result.
I also helped my parents checked their unclaimed money using my account. However, I am not sure if I can help them to claim using my account, so to be on the safe side, I registered new accounts for them to help them claim their money.
Do note that you can check 2 IDs per day.
Step 4: Application Form
If you have any unclaimed money, here is what you need to do to claim it:
Do not click anything other than the following 2 steps, the system doesn't save your search result, if you used up 2 searches, you have to wait for the next day to proceed to the next step.


Select the "check all" box, as I assume everyone wants to claim all their unclaimed monies. (Is there any reason not to claim?)



Select the "Proceed to Application" box.



Step 4.5: (Workaround) Bug in the System
In my experience, for some reason, there is a bug in the English version of eGUMIS which prevented me from proceeding to the next step. I'll save your time without boring you with the details here's the work around:
Visit this link and under "Semakan" click "Log Masuk". This is the BM version of eGUMIS.
Step 5: Enter Payee Information
This screenshot was taken in the English version, in the BM version, "Tambah Penerima" is also located in the same position.
Once you click on "Tambah Penerima (Payee)" a pop-up will appear and you will need to fill in your particulars and bank account number accordingly.
After you saved the Payee details, check the 2 boxes below and click on the "Hantar" button.
Step 6: Almost there
Once you've completed your application, you should receive an email by the AGD. To complete the claim, you are required to submit:
Your ID copy (IC/Passport/Company Cert), and


Bank statement (using the same bank that you entered in the Payee column).


Submit the above document to permohonan_wtd@anm.gov.my with the application number as the email subject.
(Please be reminded that each email cannot exceed 15MB.)
Final Thoughts
Even though there is no time limit on when the rightful owner can claim their money, it is better to claim it as soon as possible. This is because the Registrar of Unclaimed Moneys do not pay any interest on the money claimed. Your money can be invested elsewhere to generate a return.
One common reason why money is unclaimed is because the legal beneficiaries do not know about the money after the owner dies. This is especially true if the owner dies unexpectedly. Therefore, it is good to have a simple will (at the very least) to avoid this from happening.
(Here's some tips on choosing the right Financial Planner.)
Do not stop at checking your own account, if you have elderly parents or family members, do help them to check as well.
However, please be reminded that the Ministry of Finance or the Registrar of Unclaimed Moneys never appoint any individual/firm/company as agents for the refund of Unclaimed Moneys. Be extra careful if anyone claims that they can help you claim the money.
UPDATE- 31 December 2020 (1 month later)
Right before new year, I received an email from Jabatan Akauntan Negara. My claim was processed and true enough, the money has been transferred to my bank account!
That was faster than I expected, kudos to the team behind this. Here's the screenshot for the status on the eGumis Platform.